Whether you're building a new home, doing renovations, or are thinking of replacing your stove or fireplace, selecting a new heating unit can feel overwhelming. How to choose from the many options available? In this article, Stûv explains some key factors that will help narrow down your choice.
What is the difference between a wood stove and a fireplace?
First, it is important to determine the type of heating appliance that will best suit your home. There are two broad categories of wood-burning appliances: stoves and fireplaces. The difference lies in their installation.
Fireplaces and inserts
Fireplaces and inserts are installed in an existing wall or a chimney body. If you have a masonry hearth, you will need an insert that fits perfectly into your chimney. If you don't have a masonry hearth, you can opt for a wall installation with a zero-clearance fireplace that meets your needs. Note that both fireplaces and inserts need a finish, which you can customize for an aesthetically pleasing result.


Wood stoves
Stoves are independent heating units that do not require finishing materials. Since they can be installed on the floor or on a podium, Stûv wood-burning stoves are easy to add to your home.
Where would you like to install your Stûv?
Now that you know the difference between a stove, a fireplace and an insert, you can decide which type of appliance will suit your home. If you plan to install your fireplace in a masonry hearth, you will need an insert.
Masonry hearths are mainly found in homes built before the 1970s. If you don't have a hearth, you can have a zero-clearance Stûv fireplace built right into the wall.
Due to their insulated shell, zero-clearance wood-burning fireplaces let you safely place combustible materials next to the fireplace.
If your plans do not include a wall unit, opt for a wood-burning stove. Available in different shapes and sizes, Stûv wood-burning stoves will enhance any room.
Whether you plan to install it along a wall, in a corner or in the middle of the room, Stûv wood stoves are remarkably versatile.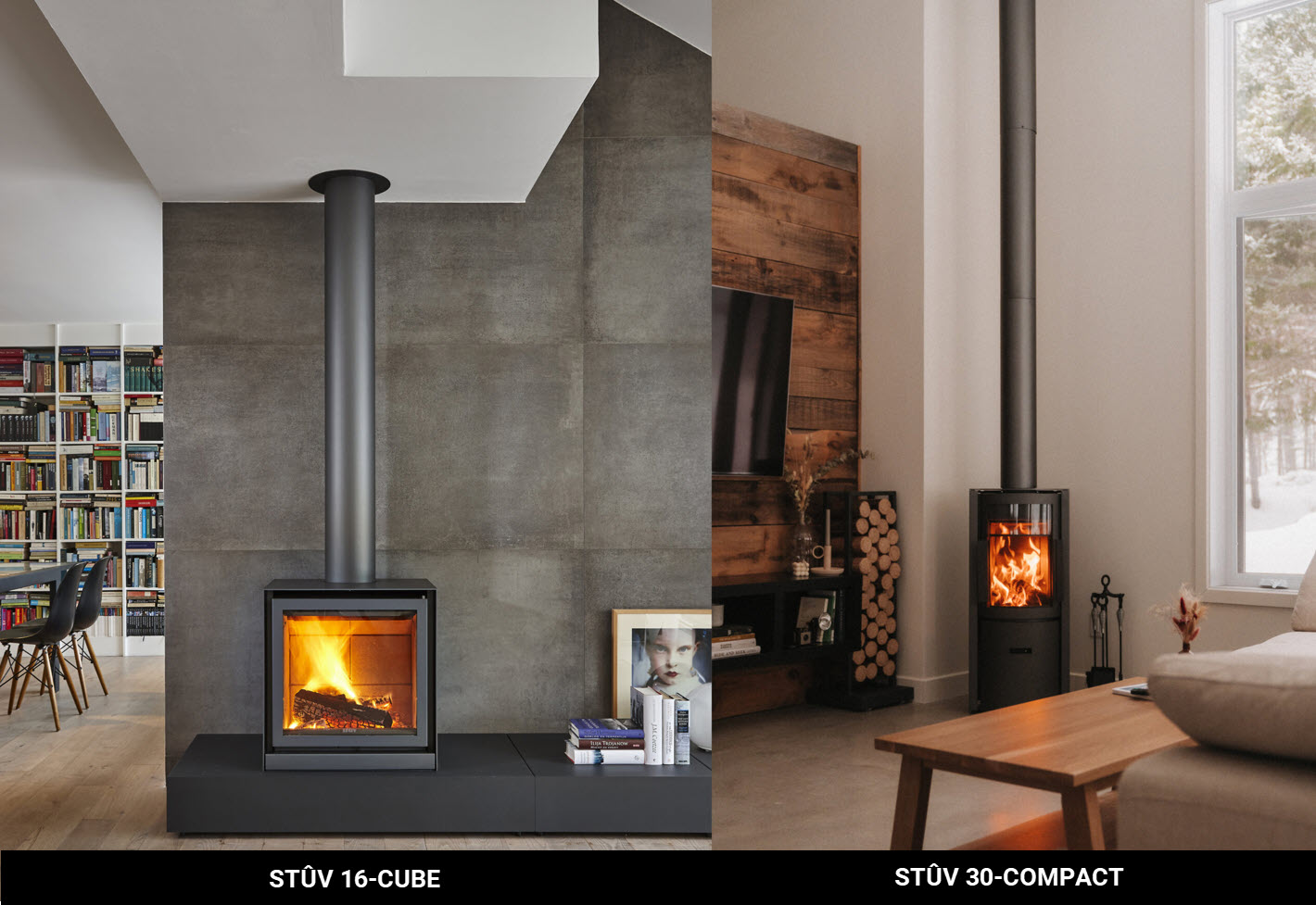 Or get the best of both worlds! Stuv's unique freestanding fireplace sets it apart from the competition.
Stûv 21-clad does not need any finishing and is the only certified fireplace in North America with an exposed insulated chimney.
Things to consider
So you've chosen the location of your new stove or fireplace but aren't sure which model would be best? Here are some key aspects you'll want to keep in mind.
Surface area you want to heat
To choose the most suitable unit, you will need to determine your heating needs. Every stove and fireplace has its own heat index, depending on the size of its combustion chamber and its glass pane, and its maximum heating capacity is indicated in BTUs. You will find the surface area that Stûv appliances cover on their respective web pages, in the Technical Documents section.
Type of construction
Another aspect that is often overlooked is your current or future home's construction. The performance of a wood stove or fireplace depends on its environment. Stûv units will perform differently according to several factors, including how long ago the home was built, its airtightness and shape.
Aesthetics
Of course, you probably want your new Stûv stove or fireplace to suit your decor. Depending on the size, shape and layout of the room, the sleek design of Stûv's heating appliances will add a unique and timeless touch.
Get inspired by past projects
Stûv accessories
Stûv offers a complete line of accessories that will help you get the most out of your stove or fireplace, add final visual touches or facilitate storage.
Fire screen
The fire screen is an excellent addition to Stûv 30 stoves and Stûv 21 fireplaces. It lets you safely enjoy an open fire and listen to the crackling of the wood.
Frames
Available in several sizes, Stûv finishing frames create a minimalist look while adding a unique touch to any decor.
Storage space
Don't forget to complete your project with our famous log trolley or our Mobilobox, a modern-looking storage space that can hold your kindling, matches and fire starters.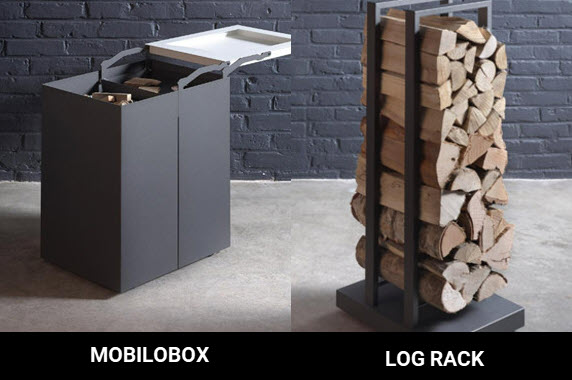 Other useful installation accessories, such as an outside air intake connector and air damper, can improve the efficiency of your new Stûv wood stove or fireplace. Our extensive network of certified dealers will take your project in hand and help you select the accessories for optimal use of your Stûv supplemental heater.
Stûv wood stoves and fireplaces will not only enhance your life, they are built to last.
You can trust the qualified Stûv dealers in our network. We encourage you to visit the Stûv dealer nearest you to see the units in their showroom and to get advice from experts in the heating industry.