Christina Richardson swears she's been an architect and designer since birth, recalling an intense interest in color, space, and design as early as 5 or 6 years old. "I loved walking into other people's houses. When I'd get home, I'd redraw the floor plans, tweaking the spaces by shifting the walls or swapping colors," she laughs.
And in 2018, this Swedish-born interior designer found her most ambitious project to date: her own home in Toronto. Despite being a complete fixer-upper, the house instantly captured her eye. "It was awful!" she laughs. "The [real estate] agent shook his head, almost begged me not to buy it."
Still, there was a connection she couldn't deny.
"I knew it was the worst case scenario, but I knew it was mine."
Before: A dark, cramped kitchen provided zero inspiration or space for gathering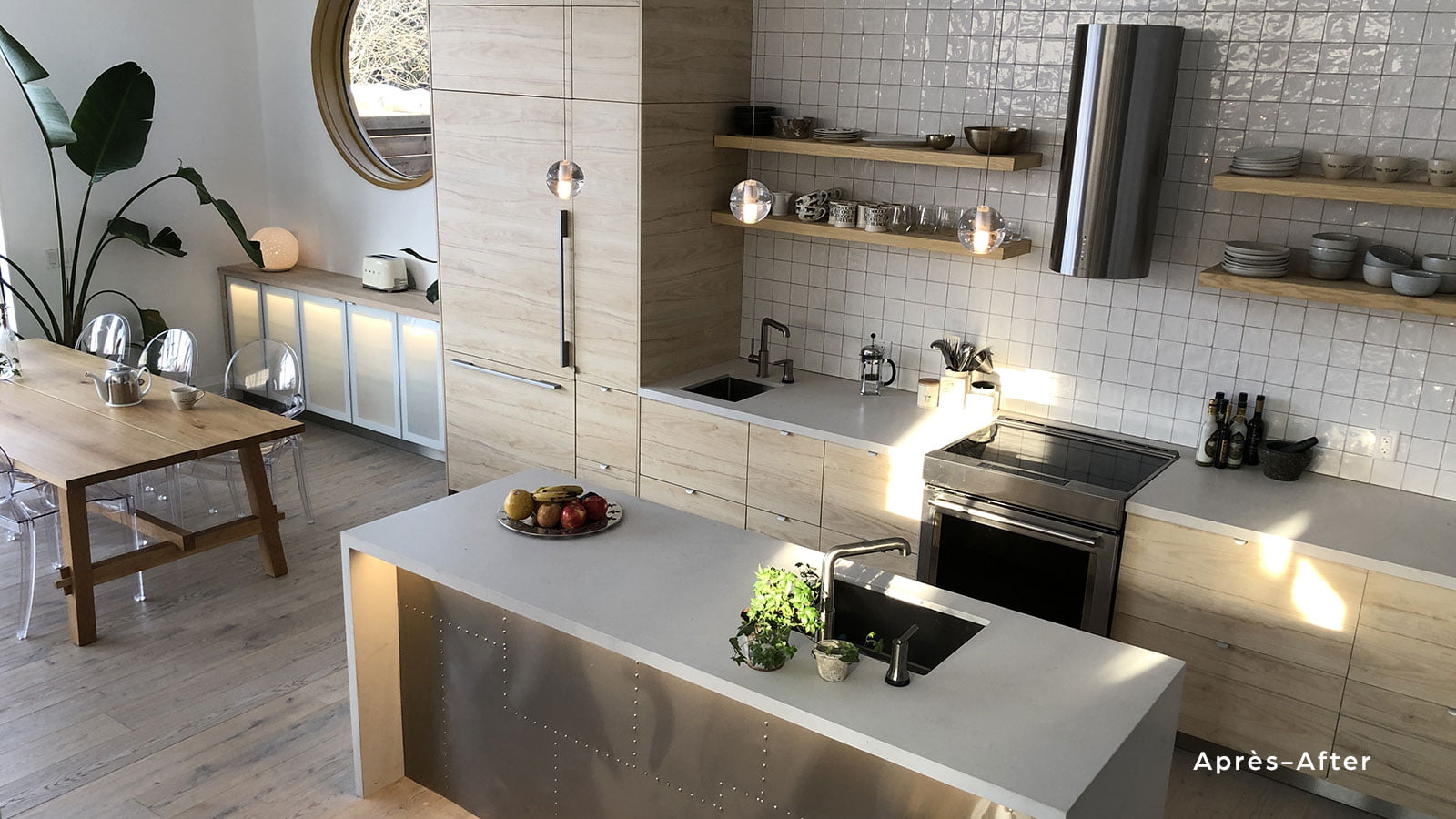 After: an open, light-filled floor plan makes this warm modern kitchen the heart of the home
Despite a lifelong love of architecture and design, Richardson took a meandering path to building her design business. Because slots for architecture students were very limited back home in Sweden — fewer than 60 students in the entire country were chosen from a lottery system each year — she chose a construction engineering degree instead. After graduation, she pivoted to a lucrative career as a mining engineer in her home city of Skellefteȧ, Sweden.
Despite the high salary, Christina could never quite leave her design dreams behind. "I had a design business on the side the whole time," she says. "I'd create everything from custom furniture to whole-house home design plans."
After moving to the U.S. with her husband and 2 daughters, Christina earned her interior design degree from the New York Institute of Art and Design and rebuilt her business stateside. Another move to Toronto meant re-establishing herself once more with new and exciting opportunities to build her portfolio and take on bigger projects.
And her 1950's family home was no small feat. "I think they renovated the kitchen in the 70s, but that's it," Richardson recalls.
"There was one, single layer of wallpaper in the home. Nothing had been touched! I've never encountered that before, it was like a time capsule."
Before: Closed off from the rest of the home, the former living room wasn't made for living.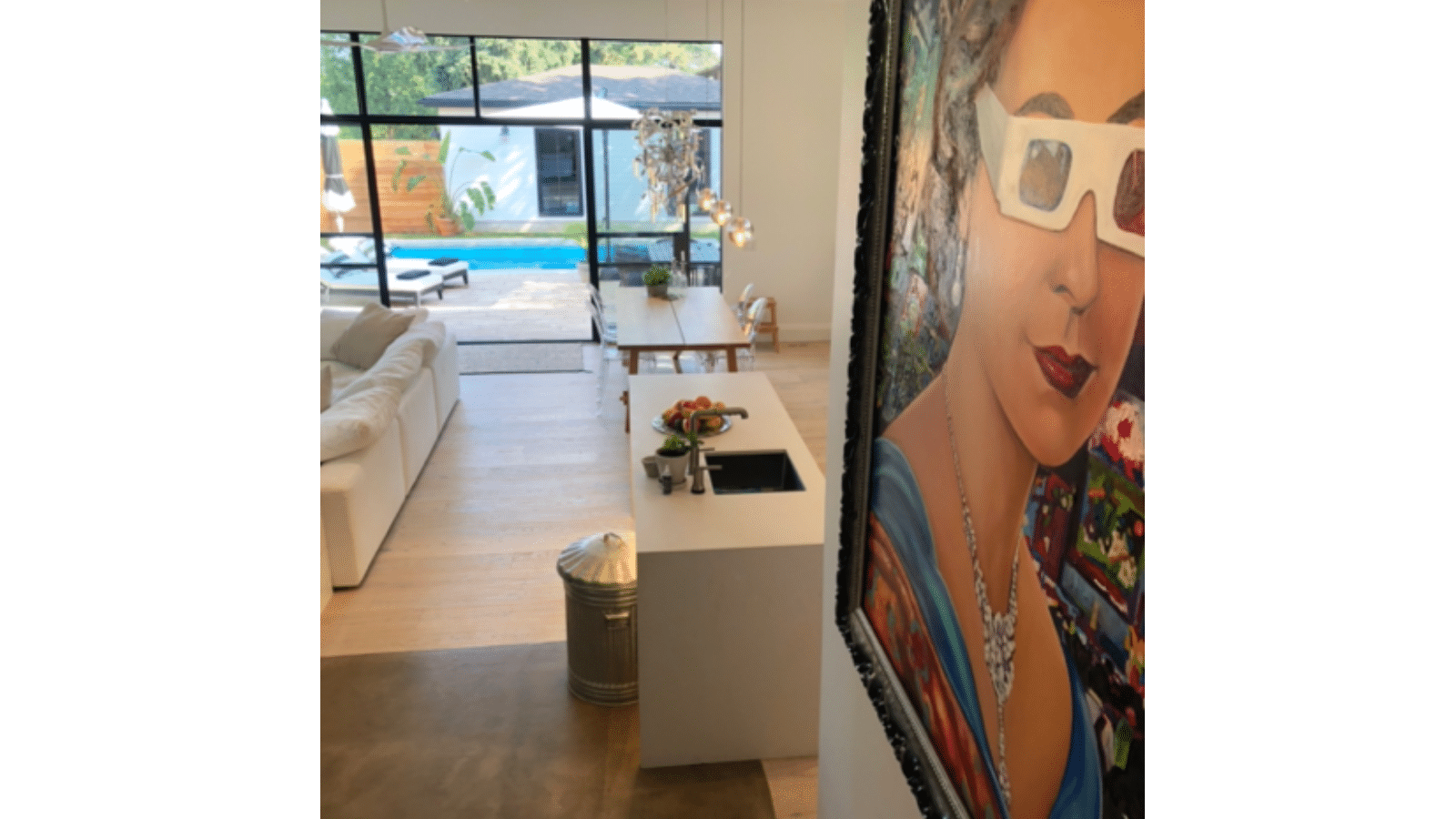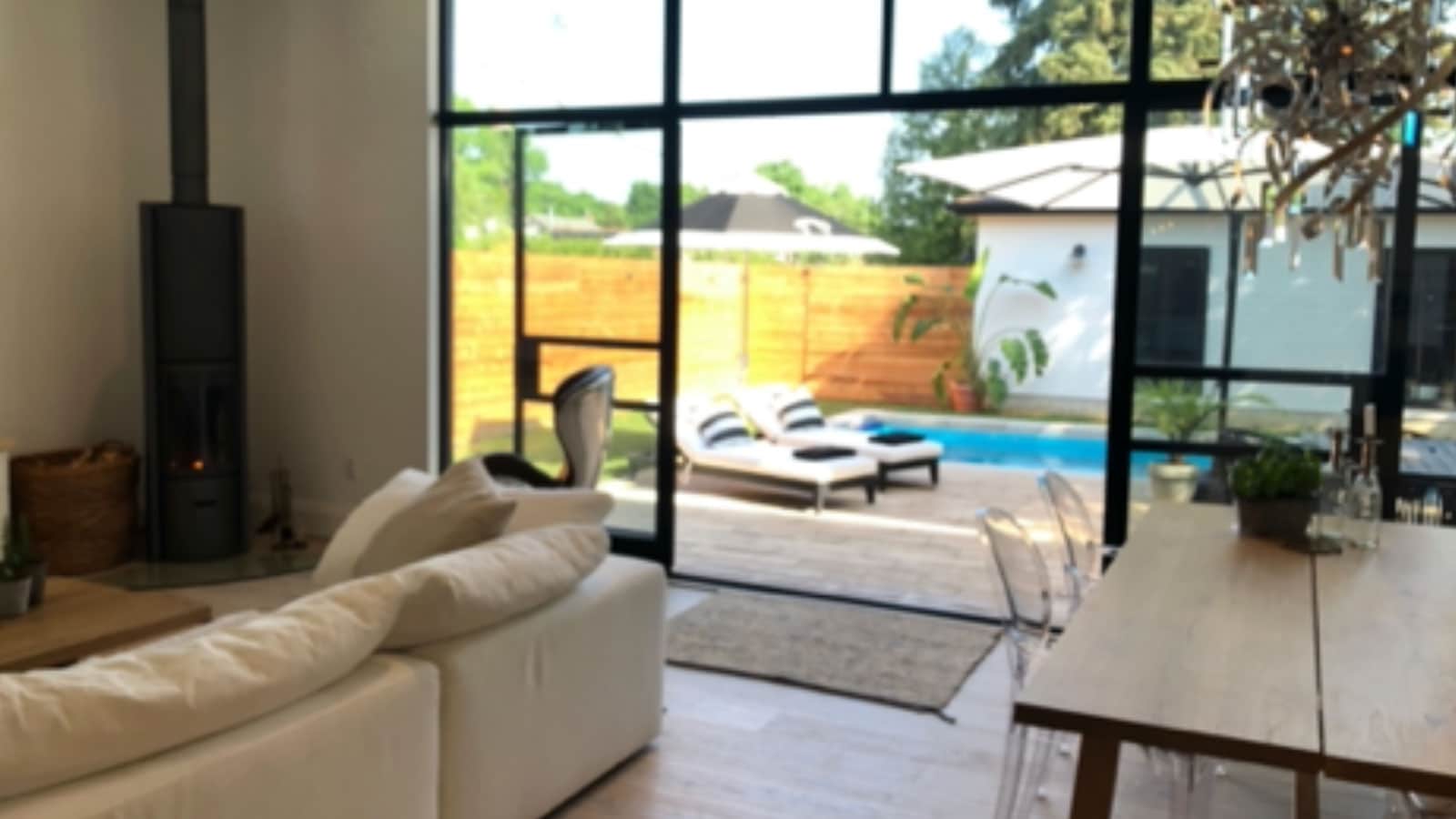 After: The open concept living/dining area is adjacent to the pool and courtyard, offering daytime sunshine, sunset views, and plenty of space to lounge.
With a large addition and a total renovation of the existing structure, almost nothing of the original home is recognizable now. But the two biggest selling points of the home — the lot and the location — are still the shining stars. Located in Toronto's Etobicoke neighborhood, the home sits on a lot far bigger than you typically find so close to the city. There's even room for a courtyard and pool area nestled between the home and the garage.
Still, Christina managed to create total privacy within the home while keeping it connected to the natural environment. Drawing on her Swedish background, Christina's 3 priorities for her home's design were privacy, light, and warmth.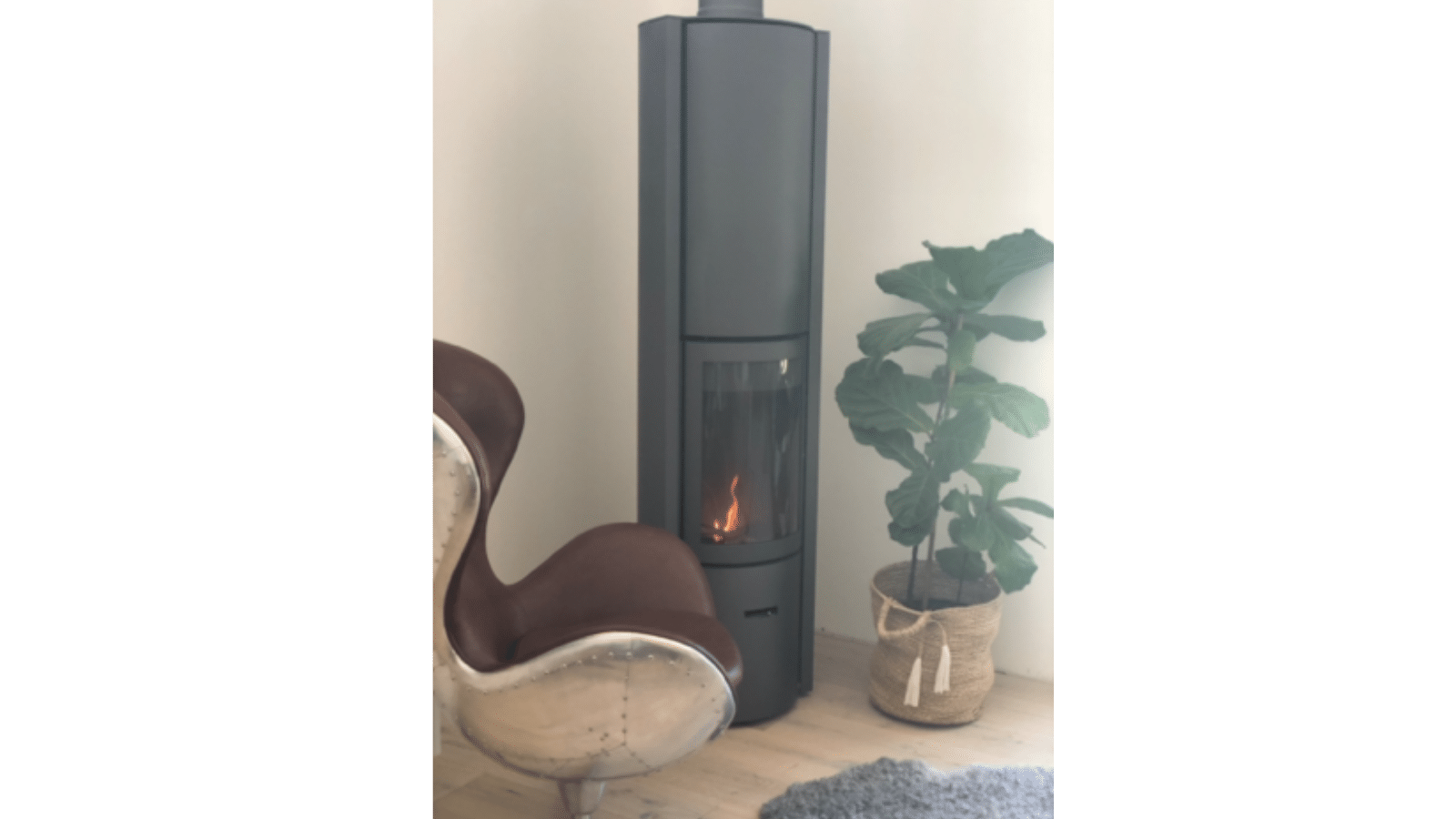 "The beautiful STUV fireplace provides the warmth for sure", Christina says, "it is the perfect match for any Scandinavian design"
"There's this key misconception about Scandinavian designs — that their minimalism makes them cold," Christina explains. "But Scandinavian designs are all about warmth and light."
To achieve this signature style, Christina created the home's floor plan with long sightlines. The open kitchen is at the heart of the home, with clear views of the courtyard, dining area, and living room. Nestled in the corner is her beloved round fireplace, perfect for adding warmth during Toronto's winters.
An abundance of windows also flood the living spaces with natural light from the courtyard and pool area, while being completely secluded from the street. In fact, this privacy is true for all areas of the home.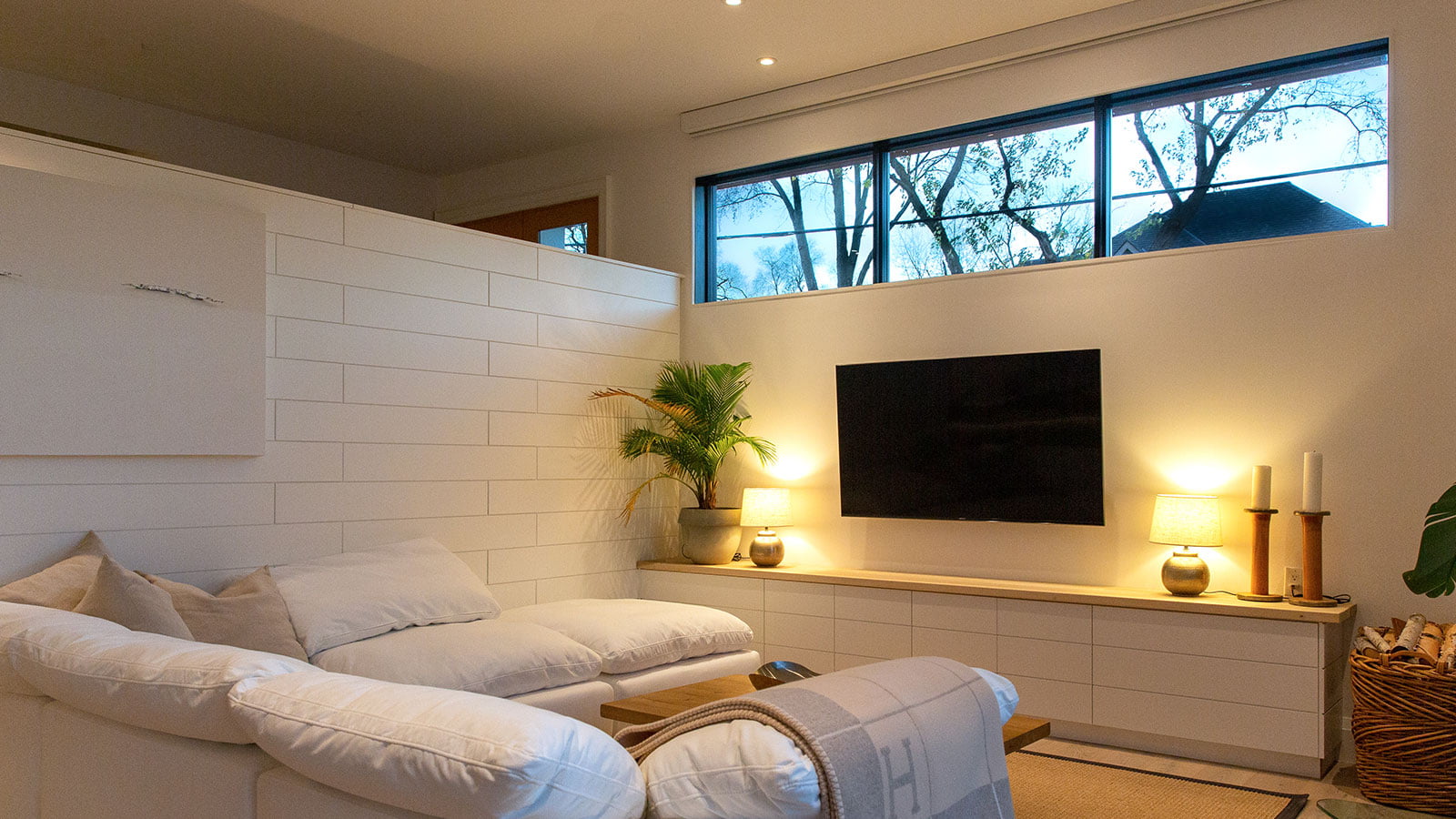 Higher windows in the living area provide plenty of sunlight and leafy, treetop views while maintaining total privacy.
"We were very careful, very thoughtful about window placement," Christina explains. On the exterior walls facing the streets, they placed the windows higher up or used etched glass to maximize daylight while ensuring privacy. The etched glass is echoed in the 4 vintage doors she salvaged from the original home. Hand-scraped down to bare wood, each adds a layer of history and soul to the home's modern updates.
But the hints of history begin before you even step inside. "When you come to the house, you walk up to this ochre yellow double door. Between the color and the clean lines, people assume it's very modern. But ochre is a very traditional Swedish color. And the door is actually custom-designed to replicate an old Gustavian style," Christina explains.
Richardson designed her front door with a nod to vintage Gustavian design, with a classic Scandinavian ochre yellow finish to set the stage for the interior.
That's not the only gem tucked in this Toronto home. A Christina Richardson design